Asterix
Share - 10€ Silver Coin
-&nbsp
Yeardate 2022
More Information

| | |
| --- | --- |
| Diameter | 31 mm |
| Metal | SILVER 333‰ |
| Weight | 17 g |
| Qualité | Uncirculated |
| Mintage | 75000 |
| Millésime | 2022 |
| Valeur faciale | 10€ |
When it comes to roasted wild boar, sausages, or cakes... Obelix knows how to divide the portions fairly... Well, almost! Asterix Share - 10€ Silver Coin Yeardate 2022
Description
When it comes to roasted wild boar, sausages, or cakes... Obelix knows how to divide the portions fairly... Well, almost!
The Collection
Monnaie de Paris continues to honour the irreducible Gauls with a collection of gold and silver coins bearing the most emblematic elements of the comic strip.
Translating comic book characters is an interesting but perilous exercise. The transition from comic strip to volume must faithfully transcribe the clear line of Uderzo's and Conrad's work. These coins are the faithful representation of a graphic line proper to the french artist, it is a tribute in three dimensions paid by the craftsmen of Monnaie de Paris to the universe of Asterix
Engraver word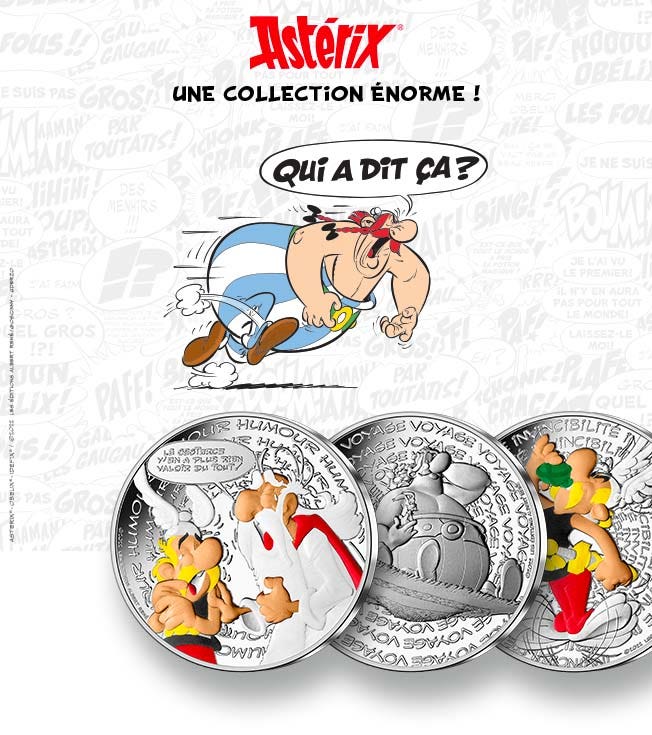 Our craftman
THE ENGRAVER

Trained at the best schools, they have the years of experience behind them necessary to master all aspects of the craft. Using industrial oil-based modelling clay and working from a design executed freehand or with CAD software, they skilfully fashion a low relief model in order to enhance the engraving and the way it catches the light. They work alternately with concave and convex plaster moulds until satisfied they have achieved the best 3D rendering of the design.

THE MINTER

The first minters began to ply their trade in France when striking with a hammer appeared in the 4th century BC. Nowdays, minsters use press instead of a hammer. Their knowledge of dies, engraving and metals, and their expertise - passed seamlessly down from one generation to the next for centuries - guarantees the excellence of their work.
VALÉRIE V.
11/24/2022
Verified Review
il faut tout de même une bonne vue pour tout lire
bernard j.
11/22/2022
Verified Review
Voir commentaire à la fin
REMY R.
11/14/2022
Verified Review
ELISABETH H.
11/14/2022
Verified Review
UWE O.
11/02/2022
Verified Review
racloirs et deformations en bordure
Anne-Joëlle L.
10/29/2022
Verified Review
Les pièces sont magnifiques, mais j'ai été déçu par les cartelettes dont la taille à été divisé par deux. J'ai la première collection "Astérix" qui est rangée dans un classeur dans des pochettes pour photo 10x15 et la dernière collection nage dedans.
MARIO H.
10/21/2022
Verified Review
SILVIO L.
09/30/2022
Verified Review
MURIELLE P.
09/21/2022
Verified Review
STÉPHANE B.
09/06/2022
Verified Review