Astérix - Well struck characters
Elegance - 10€ Silver Coin Coloured
-&nbsp
Yeardate 2022
More Information

| | |
| --- | --- |
| Diameter | 31 mm |
| Metal | SILVER 333‰ |
| Weight | 17 g |
| Qualité | Uncirculated |
| Mintage | 75000 |
| Millésime | 2022 |
| Valeur faciale | 10€ |
One can be nonagenarian and quite elegant as Geriatrix, the village elder, shows us! Astérix - Well struck characters Elegance - 10€ Silver Coin Coloured Yeardate 2022
Description
One can be nonagenarian and quite elegant as Geriatrix, the village elder, shows us!

The Collection
After the launch of the first collection celebrating the release of the new album Asterix and the Griffin in 2021, the Monnaie de Paris continues to honour one of the emblematic figures of the French comic strip at the heart of this new innovative monetary collection.
Translating comic book characters is an interesting but perilous exercise. The transition from comic strip to volume must faithfully transcribe the clear line of Uderzo's and Conrad's work. These medals are the faithful representation of a graphic line proper to the french artist, it is a tribute in three dimensions paid by the craftsmen of Monnaie de Paris to the universe of Asterix.
Engraver word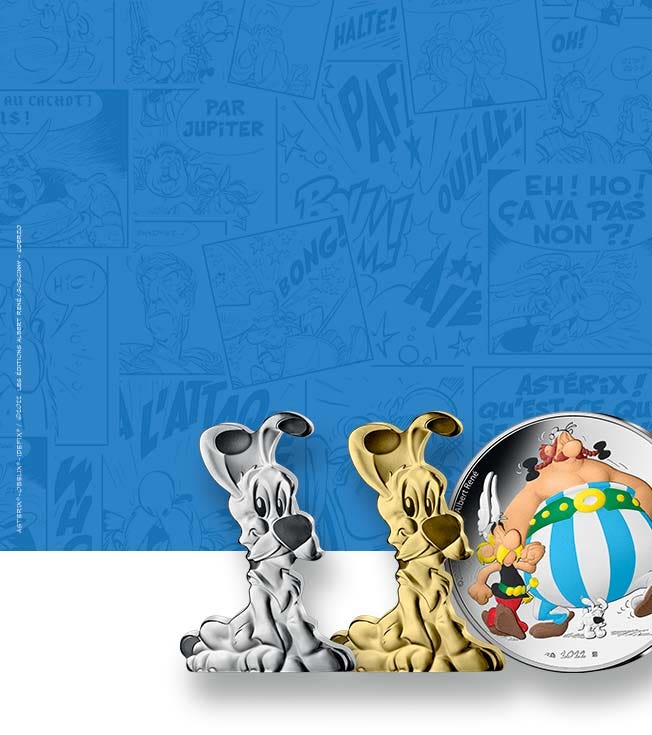 Our craftman
THE ENGRAVER

Trained at the best schools, they have the years of experience behind them necessary to master all aspects of the craft. Using industrial oil-based modelling clay and working from a design executed freehand or with CAD software, they skilfully fashion a low relief model in order to enhance the engraving and the way it catches the light. They work alternately with concave and convex plaster moulds until satisfied they have achieved the best 3D rendering of the design.

THE MINTER

The first minters began to ply their trade in France when striking with a hammer appeared in the 4th century BC. Nowdays, minsters use press instead of a hammer. Their knowledge of dies, engraving and metals, and their expertise - passed seamlessly down from one generation to the next for centuries - guarantees the excellence of their work.
CLAUDE W.
01/19/2023
Verified Review
FLORENT M.
01/19/2023
Verified Review
belle piece, dessin fin...
VINCENT G.
01/18/2023
Verified Review
DORIS V.
01/10/2023
Verified Review
GEORG H.
12/28/2022
Verified Review
Karin R.
12/05/2022
Verified Review
design impeccable et sympa même en couleur
René T.
11/30/2022
Verified Review
ALAIN B.
11/25/2022
Verified Review
PASTRE Y.
11/24/2022
Verified Review
YANNICK H.
11/23/2022
Verified Review
Une préférence pour le design de 2015